we help plan, supply and deliver dreams.
Hilltop Lumber is a family-owned business that started in Glenwood in 1988 with five employees, three trucks and one forklift. Since that time Hilltop Lumber has expanded to include around 100 employees and four locations: Alexandria, Glenwood, Ottertail and Park Rapids. The company also operates Hilltop Rental Center located in the Alexandria store. According to owner Paul Klimek, Hilltop Lumber's founders started with a vision of creating a company that serves its customers and treats them the way they would want to be treated if they were remodeling or building a new home.
"Our objective at Hilltop is to develop a relationship with the contractor or homeowner where we are viewed as a partner in their project. At Hilltop Lumber, our goal is to provide quality products with excellent service at a fair price."
Recognized For Excellence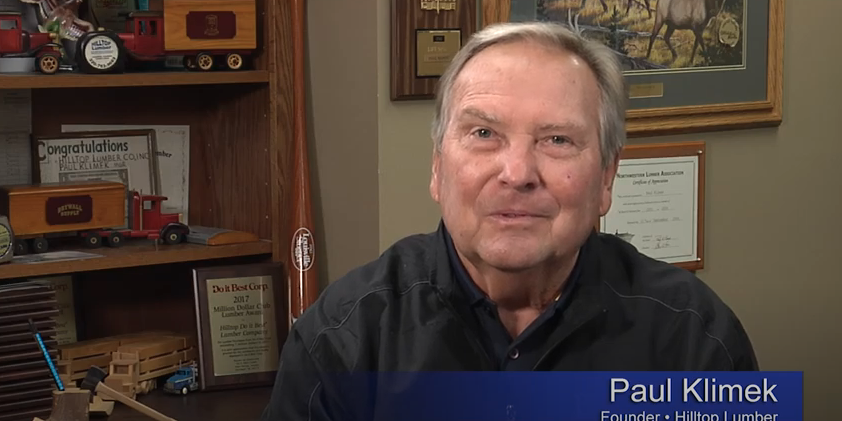 In 2018 Hilltop Lumber was selected as the recipient of the Business and Industrial Appreciation Day (BIAD*) Award by the Board of Directors of the Alexandria Area Economic Development Commission and Alexandria Lakes Area Chamber of Commerce.
Hilltop Lumber has also been recognized for excellence by the Northwestern Lumber Association and Do It Best, a member-owned distributor of hardware and building materials.
In 2023 Hilltop Lumber was awarded Independent ProDealer of the Year. The award is selected by the editors of Hardware & Building Supply Dealer along with the National Lumber and Building Material Dealers Association.

Hilltop Lumber was voted Best Building Supply Store in the Echo Press Newspaper's Best of the Lakes Area Contest. We are honored to have been voted #1 for the past 4 years.
1994
Alexandria Groundbreaking
2000
Parkers Prairie Purchased
2004
Alexandria Major Expansion
2007
Brandon Purchased/Remodeled
2008
Alexandria Idea House Gallery
2017
Ottertail New Store & Showroom
2023
Independent ProDealer of the Year Looking to build but not sure where to start? View our Home Building Guide to learn more about the building process.
In collaboration with the Alexandria Area High School, this guide was designed to help homeowners get started in the process of building their dream home. It includes a brief outline of each step in the building process and the roles different businesses play.
This video includes insight from local Alexandria businesses on the building process.
Special thank you to AAHS Business CAPS students Maya Klimek, Ethan Johnson and Landon Schabel for your collaboration in this project!